By retrofitting and expanding the base of an existing Y-plan residential tower
this proposal is decidely anti-displacment

. In the podium, a space is created for a variety of programs and community groups to be consolidated under one roof so that they may continue to service and stay in the area despite forthcoming development in the neighbourhood.



---
︎︎︎Graduate Studio Project

Location: Toronto ON
Program: Community, Retrofit
Size: new: 26 800sm // reno: 51 700sm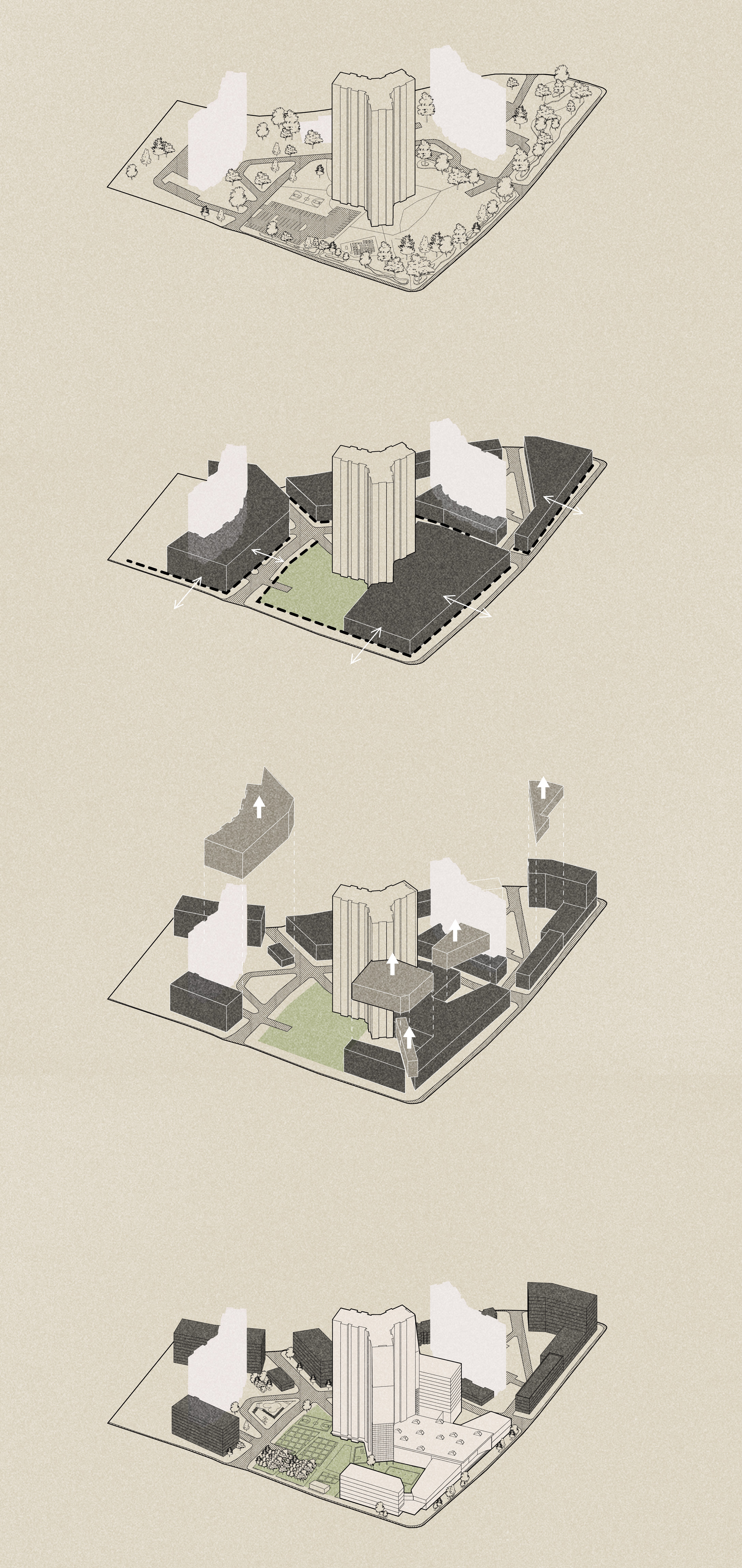 This project, Jane and Finch,

deliberately retains the name of the neighbourhood

to embody the approach this proposal takes: to not see the area as something needing to be 'fixed' or 'rebranded' [read: gentrified]. The goal of this design instead focuses on addressing the extremes of low-density commercial and high-density residential by introducing mid-density mixed use buildings as well as

providing a much-needed community hub and recreation centre at the heart of the neighbourhood

.






The design proposal focuses these ambitions into

three design elements

: the addition of

allotment gardens & an orchard; a recreation and aquatic centre; and the retrofit of the existing tower

. The new plan balances open and built space by varying building heights and allowing for mixed-use occupancy in the new massings. Landscaping and outdoor space is crucial to the proposal as well, considering the amount of existing outdoor public space provided by the present tower-in-the-park scheme. The northwest side of the block is left as a large planted green space with expanded community garden capacity paired with an indoor communal kitchen in the base of the tower. Communal food security begins with relationship building. Relations with the neighbours, friends, family, and the earth, seasons, the pigeons, and pollinators.

The proposed recreation centre is a necessary addition to the neighbourhood. At the time of this project design, the city of Toronto and the Toronto Transit Commission had just pulled their promise in integrating a community hub with a proposed transit facility in the area. The community which needs a dedicated and updated space were extremely dissapointed and it became contentious as the Jane and Finch neighbourhood is already under-supported and home to many low-income residents. There is obviously a need for this kind of building to exist in this neighbourhood.

This project is one version of a future where this community is supported in the ways they have already asked for

; with the added goals of food security, improved and programmed outdoor public space, and an updated quality of housing in these exisiting high-density towers.



Year: 2018
Instructor: John McMinn
School: University of Waterloo School of Architecture